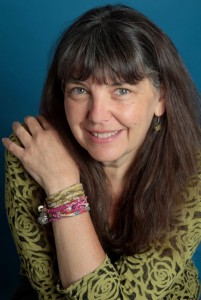 Lynn E. Hazen has been the owner, director and head teacher of The Preschool since 1983. She does all the administrative work, but especially enjoys interacting with the children, mentoring the teachers, and being a resource to families.
Lynn graduated with High Honors from UC Davis with a Bachelor of Science in Applied Behavioral Sciences. Lynn's emphasis was Education, Psychology, Sociology, Cultural Anthropology, and Human Development.  She threw in an eclectic assortment of seemingly unrelated Design, Writing, Literature, Communications, and Agricultural courses as well, which at the time, seemed to have no other purpose than to fill Lynn's curiosity. All however, have come in handy at some point during the preschool years.
Lynn taught English in Japan for three years, taking a little time to travel to Thailand and Sri Lanka. Back in San Francisco, she found that finding a quality early childhood program for her own young children was a huge challenge–so she decided to start her own preschool. Lynn then received her M.A. in Early Childhood Education from San Francisco State University. She had already begun to put all the research and theory from her classes to practice at The Preschool!
In her other waking hours, Lynn enjoys gardening, dancing, writing books, outdoor recreation, and spending time with her family and friends.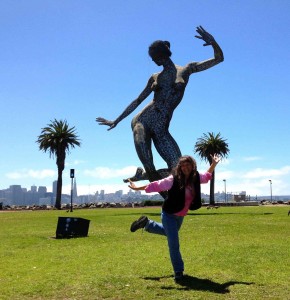 Her two sweet, funny, creative, and boisterously active boys have kept Lynn amazed and challenged as a parent, and have provided continuing joy and pride. Former graduates of The Preschool, they have now also graduated from UC Davis & Stanford (& grad school at NYU). Yep, Lynn's "kids" are now young men, much taller than she is!
Lynn loves learning and has continued her own education by earning an M.F.A. in Writing for Children & Young Adults at Vermont College. She enjoys writing children's books and teaching writing classes for adults at Stanford Continuing Studies and at The Writing Garden.   www.TheWritingGarden.com    www.LynnHazen.com
(clicking on highlighted books will take you to Books Inc)
Lynn's books for children and young adults are filled with humor, heart and hope. Kirkus Reviews praised her young adult novel, Shifty, as "a realistic story that resonates." Shifty was chosen for VOYA's Top Shelf Fiction, as a CCBC Choice, and a Smithsonian Notable. In 2010, Shifty was selected by Napa County Reads, a literacy program co-partnered by the Napa Valley Office of Education, the Napa Library and the Arts Council. Middle school and high school students across Napa County read Shifty.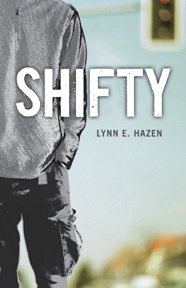 Lynn's books for younger readers include a picture book, Buzz Bumble to the Rescue, and two young chapter books, Cinder Rabbit and The Amazing Trail of Seymour Snail. Her middle grade novel, Mermaid Mary Margaret, was hailed "a winner" by Kirkus Reviews.
VOYA- Voice of Youth Advocates
CCBC- Cooperative Children's Book Center
SCBWI- Society of Children's Books Writers & Illustrators